If you can dream it, we can build it. Starting with your first consultation, we'll listen and make sure that we understand the vision you have for your project. Each and every job is distinct and personal and we treat each one that way. Whether it's a multi level addition, a new interior staircase, or a variety of different millwork to be installed in an office, school, or government building, you will appreciate our dedication to communication and attention to detail.

Projects Completed

Since opening our doors for business in 2010, Matson Construction has been very busy, and we'd like to share photos of some of the work we've completed in the past couple years. Below are descriptions of some of the larger projects we've been working on. Please take the time to review photos of these and various other commercial and residential projects we've been working on recently.
More Pictures...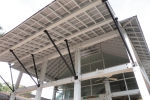 Outdoor Living and decks: If you can dream it, we can build it! Matson Construction can help you expand the living space of your home outdoors, whether its an addition, screened in porch, or deck, call us to get it done!
More Pictures...
Harmony St Remodel: Matson Construction offers a variety of remodeling services, here is an example of a kitchen and bathroom remodel we did in uptown New Orleans.
More Pictures...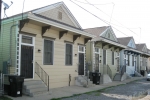 Residential Millwork: Matson Construction LLC specializes in residential trim carpentry and millwork applications. From Door and trim installation to custom staircases and mantles, we do it ALL!
More Pictures...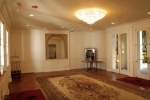 St Louis/ Mazarin Hotel: GC- MCC/ PAR Contractors- Various Interior Millwork projects associated with the remodel of the St Louis hotel in The French Quarter, which reopened as the Hotel Mazarin. Work Included installation of Lobby paneled walls, Fabrication/ Modification and Installation of Dining area paneled walls and doors, remodel of common area bathrooms, Modification and installation of banquet room door system and various other doors.
More Pictures...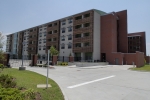 Gas Light Apts: GC- Walton Construction, Millwork provider- Central City Millworks: Installation of all MDF Interior Trim for two 5 story apt buildings on the I-10 service rd between Crowder and Read in New Orleans East.
More Pictures...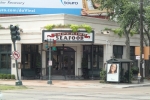 Superior Seafood: GC- Ellis Construction, Millwork provider- Central City Millworks; Installation of all Men's and women'd bathroom partitions in the new high end seafood restaurant modeled after the original in France, that now occupies the place of the old Copeland's on St Charles and Napolean Aves in Uptown New Orleans.
More Pictures...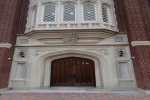 Loyola University Thomas Hall Restoration: GC- Landis Construction, Millwork provider Central City Millworks; Restoration of original 5 story antique heart pine staircase including complete tear out and new construction of 1st to 2nd floor staircase with original refinished newel posts, post to post handrails with easements, and all treads, risers, skirtboards and skirt cap to match the architectural style of the original staircase.
More Pictures...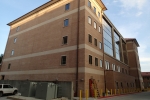 LSU Choppin Hall Annex: GC- VCC LLC; All interior millwork for LSU's new 5 story chemistry lab building. Including over 600 linear ft of red oak and wire mesh paneled walls, all red oak windowsills, baseboard, door casing and shoe moulding throughout building, Bookmatched red oak paneled walls in lobby, solid surface countertops in all bathrooms, laminate cabinetry and countertops throughout, all red oak shelving in closets.
More Pictures...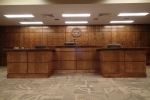 Dept of Human Services Building Poplarville, MS/ Pearl River County Courthouse: GC- Casablanca Construction; All interior millwork including all laminate cabinetry and countertops throughout building, solid surface bathroom countertops and window sills, All white birch bookmatched wall paneling, white birch judge's box, baseboard, crown moulding in courtroom
More Pictures...



Matson Construction offers free in home or on site estimates and consultations. Call us at (703)717-1735 to schedule your appointment today